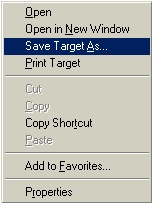 Instructions for Downloading:


Click on the links with your RIGHT mouse button and you will see a menu like the one to the right open up.

In Internet Explorer Choose "Save Target As..." and download the file to your desktop (in Netscape you choose "Save Link As..").

Once you select the "save target as" or "save link as" entry, a download screen will appear asking you where you want to save the file to on your computer.

Recommended: Save the files to your "Desktop" or another folder you can easily find.

The download screen will appear like this...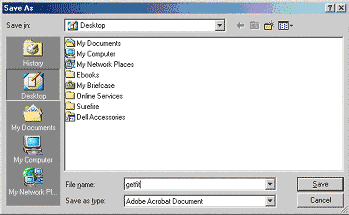 Once you have downloaded the file, go to your desktop or the file you saved it to and double click the file to open it. Repeat this process for each of your files...
You'll need the free Acrobat Reader program to read the manuals. If you don't have a copy of the Acrobat program on your PC now, you can get a Free copy of it by going to ... http://www.adobe.com/products/acrobat/readstep.html (link opens in a new window).

UNZIP FILES - Download to folder you've created as above on desktop.
Then right click on zip file & menu opens. Place curser on WinZip and another menu appears. Then left click on... Extract to here.

All the files in the zip file will open up into the folder you have created eg on your desktop.

You'll also need a zip utility to un-pack the zipped files. If you don't have a zip utility on your PC you can get a Free trial version of WinZip by visiting ... http://www.WinZip.com (link opens in a new window).